Most of us stare at a computer screen all day. A 2-D world that strains the eyes and overstimulates the brain.
And, our presentations tend to be the same… 2-D slides.
Our eyes are tired. The audience's eyes are tired.
So, how can you break through? Use a prop.
Find something relevant to your talk and bring in that ACTUAL thing. Something with mass, texture, and color. It will work as a way to center the group's attention on your point and will serve as an anchor for your message.
TED speakers do this very well (yay, TED speech coaches!):
Watch how Graham Hill uses a box to anchor his TED talk on Less Stuff, More Happiness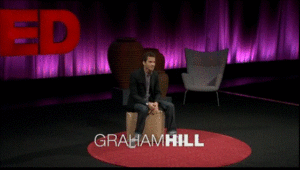 This works because the prop is:
1. Relevant
2. Not distracting (the speaker refers to it, but doesn't overdo it)
3. Effective (because he refers to it in the beginning and the end. What's in it? Who cares. Whatever it was, he hasn't missed it!)
You might think that this is too OUT THERE for your presentations. Remember that you can scale the size and uniqueness of your prop to your audience. Watch how I use a penny as a prop to illustrate how much money an energy company loses when their billing system doesn't work well (videoed at iSpeak):